We're huge fans of Red and Vee with Vampire-Diaries.net (@tvdnews)–not just because they're the (awesome!) editors to our Vampire Diaries anthology, A Visitor's Guide to Mystic Falls*, but because they're just so much fun.
For instance, they're hosting half of a very cool giveaway on their site today and the other half is right here.
See, we have this fantastic cover for A Visitor's Guide to Mystic Falls and we're giving away not only a copy of the book today but also items that are ON the cover–straight from the cover photo shoot.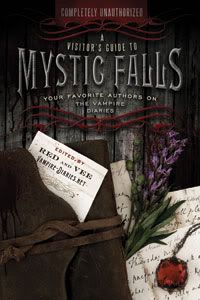 At our site, we're giving away some really cool war-era stationary from Monahan Papers:

There will be one winner here and another winner over at Vampire-Diaries.net (just a heads-up, their giveaway cover items are just as great).
So, here's what you do:
Leave a comment here!
Follow @tvdnews and @smartpopbooks on Twitter.
Contest will be open until 12/9 (and it's open to everyone, even our international readers) at midnight EST.
Good luck!
*Coincidentally, Red and Vee's introduction to A Visitor's Guide to Mystic Falls is up today. Take a look!