Thanks for all the comments and best episode picks left on our In the Hunt giveaway a couple weeks back. We have a winner (insert drum roll)…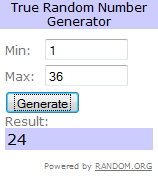 Caitlin, I'll email you for your address momentarily!
***
To everyone else, think of Caitlin's win as a very good reason to pick up your own copy of In the Hunt at a nicely discounted price through Monday only! Buy your copy of In the Hunt today for 50% off the list price (a bargain $7.47) or if you prefer your books in digital form, we have the e-book for just $7.00. Don't wait!